Walt Disney Autographed
THE STORY OF WALT DISNEY Book!

Diane Disney-Miller's 1957 book, THE STORY OF WALT DISNEY is the closest thing there is to an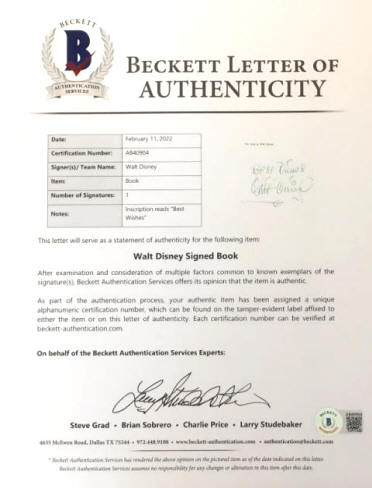 official Walt Disney biography. Signed copies are a great find. Imagine Walt Disney signing- in effect certifying- his life's story! This book is a first edition; the ultimate addition to any Disney book collection! Walt Disney has personally autographed the title page with a huge signature in green ink:
BEST WISHES WALT DISNEY
Book is in very fine condition with minor bumps to two corners as shown; dust jacket is a color photocopy. Includes TWO Certificates of Authenticity: One from Becket Authentications and of course the Phil Sears Lifetime Guarantee of Authenticity Certificate. There is no thrill for a Disney fan that compares to reading Walt Disney's life story from a book that Walt himself held in his hands!
Item # 7518, $7,995
SORRY, SOLD
About $799/Month on layaway!*
*Do not use the "Add To Cart" button if you wish to pay using our 10 month layaway payment plan. Instead CLICK HERE for the layaway order form. Most orders totaling $149 or more can be placed on layaway. Layaway does not require credit and is not the same as PayPal Credit (see banner ad below).
Special U.S. insured shipping charge on this item $19.95. Foreign shipping $79.95. Automatic checkout will not calculate foreign shipping accurately. After you place your order we will email foreign customers for additional shipping payment.