Walt Disney Autographed
Pinocchio & Jiminy Print!

Jiminy Cricket presents himself to Pinocchio in this wonderful scene from the 1940 Walt Disney classic. Produced at the Disney Studio, a limited number of prints were made and never sold-- but given by the Disney Studio to select recipients as special gifts. These high-quality prints were not available to the general public, but instead used by the Studio for promotional purposes (gifts to V.I.P.s, top-selling film salespeople, entertainment reporters, charity auctions, etcetera). Many of these prints went unsigned, others were signed by Disney employees signing on behalf of their busy boss, and a rare few- such as this wonderful piece- were personally autographed by Walt Disney.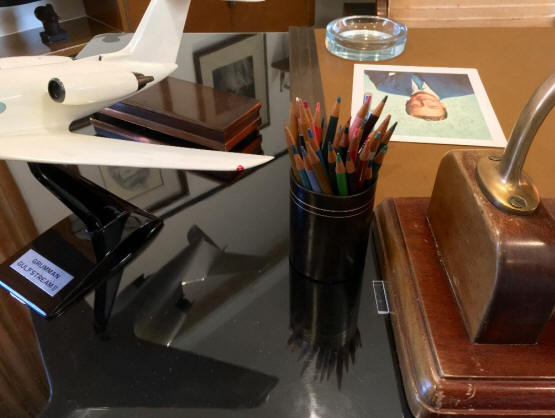 This LARGE and handsome dye transfer print of Pinoke and his Official Conscience Jiminy Cricket is boldly autographed by Walt Disney on the matte in crayon. When signing prints like these, Walt Disney would choose a colored crayon from his desk (see photo inset at right) which complimented a color in the print . Walt has inscribed the print in his famous block printing:

"TO ANDY
BEST WISHES
WALT DISNEY"
Today these prints are prized by collectors as one of the most attractive and displayable of all Walt Disney autographed items. "Walt Disney's Pinocchio" is considered one of the finest animated films of all time. Unframed; measures approximately 15.5" x 14.5" overall. In superior condition with only minimal handling evident. A true showpiece! Includes the Phil Sears Collectibles Lifetime Guarantee of Authenticity. Item # 8476
SORRY, SOLD
*Do not use the "Add To Cart" button if you wish to pay using our 10 month layaway payment plan. Instead CLICK HERE for the layaway order form. Most orders totaling $149 or more can be placed on layaway. Layaway does not require credit and is not the same as PayPal Credit.
Special U.S. Shipping charge on this item $29.95. Foreign shipping $69.95. Automatic checkout will not calculate foreign shipping accurately. After you place your order we will email foreign customers for additional shipping payment.