Walt Disney Autographed Congressional Yearbook
Walt Disney was always a proud American, often honoring America's history-- with an admitted Hollywood flair-- in his films and television shows, and with the 1964-65 NY World's Fair presentation of Great Moments with Mr. Lincoln. Later, WDW's Liberty Square would continue this tradition.
Here I present an extremely unusual Walt Disney autographed collectible: A rare Walt Disney autograph in a Congressional yearbook. The book is similar to a high school yearbook, but is an official government publication commemorating the Congressional pages (youth interns) for the year 1944. Walt Disney has personally autographed one of the back pages in blue fountain pen along with other autographs.
Includes an email from the former owner: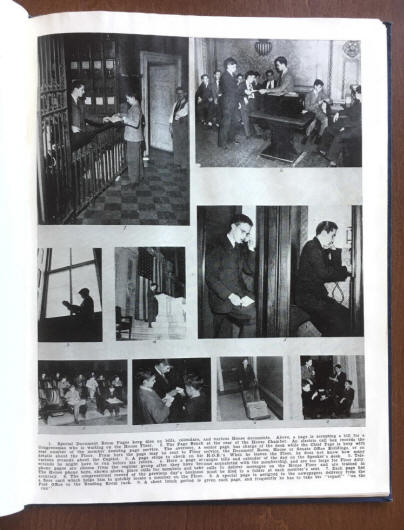 "...I have a VERY interesting early Walt Disney Signature... inside a 1944 Congressional yearbook from the WW2 time frame as well. I've never seen Disney's signature inside a political book until now... The book belonged to my late grandfather who was a Page in DC during WW2..."
At least six Members of Congress have signed below Walt Disney, including John Costello, (appropriately of Hollywood, CA); Clarence E. Hancock, NY 35th district, Joseph Clark Baldwin, 17th NY, Walter G. Andrews, 40th NY, Joseph O'Brien NY 38th, and Eugene Worley, 18th district TX.
Hardcover; more than 60 pages. Some water staining throughout (see photos); otherwise fine condition. Includes the Phil Sears Collectibles Lifetime Guarantee of Authenticity. Item # 7791, $4495
About $449/Month on layaway!*

Special insured U.S. shipping charge on this item $19.95. Foreign shipping $49.95. Automatic checkout will not calculate foreign shipping accurately. After you place your order we will email foreign customers for additional shipping payment.
*10 MONTH LAYAWAY: Use the drop-down menu to make your first layaway payment (plus one-time shipping). We will email you with a link for future monthly payments. Layaway does not require credit and is not the same as PayPal Credit. Full layaway terms HERE.