Walt Disney's Personally Handwritten Notes
Regarding Famous Imagineers

The President of WED Enterprises (today called Walt Disney Imagineering) wants Walt Disney's input regarding salaries for some of Imagineering's most illustrious creative minds. Famous Disneyland creators like X. Atencio and Yale Gracey (renown for the Haunted Mansion among other contributions), Claude Coats and Marc Davis (Pirates of the Caribbean and so much more), master designers Herb Ryman and John Hench, engineering wizards Bob Gurr and Wathel Rogers, and others are being considered for raises in this Imagineering Inter-Office memo and related note sheets.

Walt Disney has personally written across the memo in red:

"CHECK WITH MELL"
and
"WHAT ABOUT MARTY SKYLAR?"

(Walt Disney was a notoriously bad speller-- he only attended one year of high school-- and he has mispelled the names of Mel Melton and Marty Sklar.) Also included are two note sheets from Walt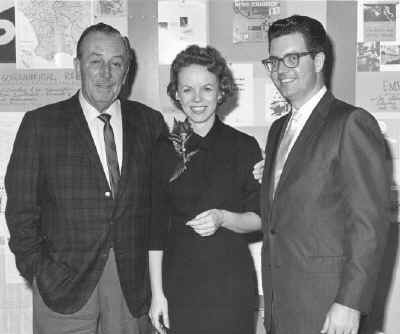 Disney's secretary Tommie Wilck (one with Walt Disney's writing). It was custom in Walt Disney's office that his secretaries would type out notes on notesheets or scrap paper to keep Walt organized. Walt would often respond by writing his reply in red ink or crayon. On her personalized Mickey Mouse note sheet Tommie Wilck (shown at right with Walt) tells Walt his opinion about raises is being solicted by Mel (Melton, President of WED/Imagineering). Walt has written in bold red conte crayon:

"HOLD TO GO OVER WITH MEL"
This package includes four sheets; the Inter-Office Correspondence from Mel Melton is two pages (one not shown) plus two note sheets from Walt's secretary. Inter-Office Correspondence measures 8.5" x 11". Tommie Wilck note sheets measure approximately 4.5" x 6.5". Extremely rare! Walt Disney's handwritten notes on WED/Imagineering documents almost never come up for sale! Includes the Phil Sears Collectibles Lifetime Guarantee of Authenticity Certificate. In good condition with minor handling and paper clips stain as shown. All four pages, Item # 7902, $6995
About $699/Month on layaway!*

SORRY, SOLD
Select Full Payment or LayAway Here
*10 MONTH LAYAWAY: Use the drop-down menu to make your first layaway payment (plus one-time shipping). We will email you with a link for future monthly payments. Layaway does not require credit and is not the same as PayPal Credit. Full layaway terms HERE.
U.S. shipping charge on this item $19.95. Foreign shipping $49. Automatic checkout will not calculate foreign shipping accurately. After you place your order we will email foreign customers for additional shipping payment.