Walt Disney Autographed Mickey Mouse Print!

When you think of Walt Disney, who is the first cartoon character to come to mind? Mickey Mouse! Inspired by Walt Disney's famous 1942 South American goodwill tour, this lively print of Mickey from the Walt Disney Studio is personally autographed by Walt Disney on the matte in green crayon. These high quality dye-transfer prints were not available to the general public, but instead created at the Walt Disney Studio for promotional purposes (gifts to top-selling film salespeople,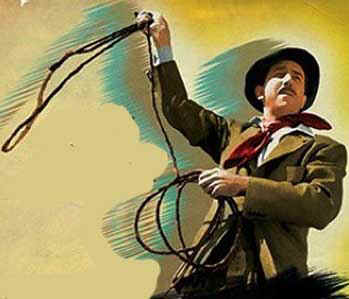 entertainment reporters, charity auctions, etcetera). Many of these prints went unsigned, others were signed by Disney employees signing on behalf of their busy boss, and a rare few- such as this wonderful piece- were personally autographed by Walt Disney. It is especially nice that this one is not inscribed (does not read "To Frank," etc.).
Included is an email from the former owner:
"... My mother won a war bond raffle at a Memphis movie theater during WW II with the prize being a picture of Mickey dressed as a gaucho and signed by Walt Disney. I believe the State dept or DOD had asked for some help from Disney concerning Nazi efforts in South America. Not sure about that but had heard something to that effect. The picture was framed under glass and is in good shape..."
To sign prints like these, Walt Disney would choose a colored crayon from his desk which complimented a color in the print. Today these prints are prized by collectors as one of the most attractive and displayable of all Walt Disney autographed items.
This fine print is of Walt Disney's most famous character- the one considered Walt's alter ego- Mickey Mouse! In fact this pose was directly inspired by a photo of Walt himself taken during his 1941 South American tour which was recently portrayed in the documentary "Walt and El Groupo" (see image at right). The original Disney Studio label is on the back, stating this is one of only 100 prints of this type. Also included is the Phil Sears Collectibles Lifetime Guarantee of Authenticity. The mat has been trimmed to 14" x 11"; otherwise very fine condition. This would be the centerpiece of any Disney collection!
Item # 7086
SORRY, SOLD

*Do not use the "Add To Cart" button if you wish to pay using our 10 month layaway payment plan. Instead CLICK HERE for the layaway order form. Most orders totaling $149 or more can be placed on layaway. Layaway does not require credit and is not the same as PayPal Credit.
Special U.S. shipping charge on this item $24.95. Foreign shipping $39.95. Automatic checkout will not calculate foreign shipping accurately. After you place your order we will email foreign customers for additional shipping payment.