Walt Disney Autographed Mickey Mouse Print!

When you think of Walt Disney, who is the first cartoon character to come to mind? Mickey Mouse! Inspired by Walt Disney's famous 1942 South American goodwill tour, this lively print of Mickey from the Walt Disney Studio is personally autographed by Walt Disney on the matte in green crayon. These high quality dye-transfer prints were not available to the general public, but instead created at the Walt Disney Studio for promotional purposes (gifts to top-selling film salespeople,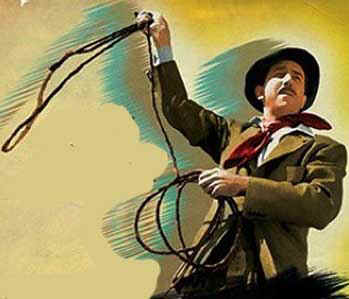 entertainment reporters, charity auctions, etcetera). Many of these prints went unsigned, others were signed by Disney employees signing on behalf of their busy boss, and a rare few- such as this wonderful piece- were personally autographed by Walt Disney. It is especially nice that this one is not inscribed (does not read "To Frank," etc.).
To sign prints like these, Walt Disney would choose a colored crayon from his desk which complimented a color in the print. Today these prints are prized by collectors as one of the most attractive and displayable of all Walt Disney autographed items.
This fine print is of Walt Disney's most famous character- the one considered Walt's alter ego- Mickey Mouse! In fact this pose was directly inspired by a photo of Walt himself taken during his 1941 South American tour which was portrayed in the documentary "Walt and El Groupo" (see image at left). The original Disney Studio label is on the back (see image below), stating this is one of only 100 prints of this type. Also included is the Phil Sears Collectibles Lifetime Guarantee of Authenticity. Measures 17" x 16" framed. Some overall age toning to mat, and frame shows age; otherwise very fine condition. This would be the centerpiece of any Disney collection!
Item # 2710, $9,950

SORRY, SOLD

About $995/Month on layaway!*
Select Full Payment or LayAway

Here
*10 MONTH LAYAWAY: Use the drop-down menu to make your first layaway payment (plus one-time shipping). We will email you with a link for future monthly payments. Layaway does not require credit and is not the same as PayPal Credit. Full layaway terms HERE.
Special U.S. shipping charge on this item $29.95. Foreign shipping $69.95. Automatic checkout will not calculate foreign shipping accurately. After you place your order we will email foreign customers for additional shipping payment.