Walt Disney Autographs Dopey For Snow White!
Walt Disney has personally autographed this original production cel of Dopey as a gift for the first movie Snow White actress! According the Walt Disney Family Museum website (https://www.waltdisney.org/blog/snow-white-1916):

"Shortly after his 15th birthday, Walt Disney saw a movie that made a powerful impression on him. The film was Snow White, starring Marguerite Clark, and Walt, then a youngster in Kansas City, saw it at a special "movie party" sponsored by the Kansas City Star... It was loosely based on the Brothers Grimm story of "Snow White," but more particularly on a 1912 stage production which also had starred Marguerite Clark. Drawing on generations of fantasy tradition, and Ms. Clark's winning performance, the 1916 version of Snow White was a film of rare charm and appeal. It was, Walt told an interviewer in later years, "a perfect story." In the 1930s, when he determined to produce his first feature-length animated film, the story of Snow White instantly came to mind. Today, of course, we know that he adapted the story in his own unique, original way; but he remarked more than once that he had been inspired partly by his memory of that long-ago movie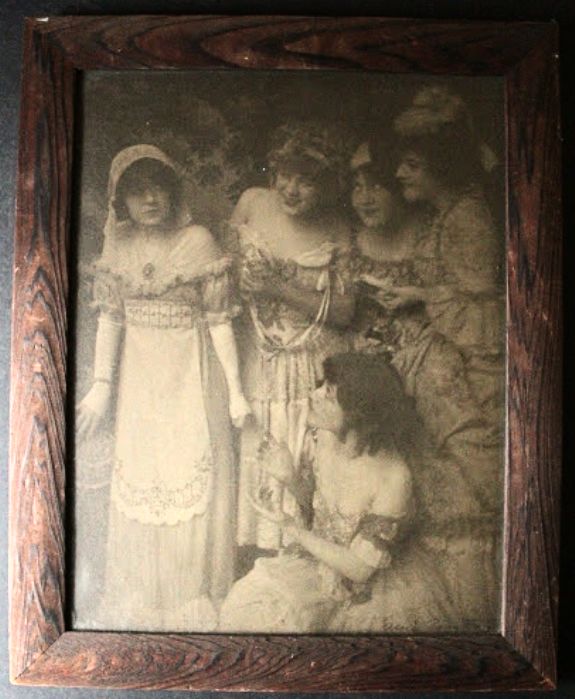 showing in Kansas City..."

Walt Disney has personally autographed this 1937 original production cel of Dopey in graphite:

TO MARGUERITE CLARK MY BEST WISHES WALT DISNEY

Included is an email from the former owner:

I have inherited a Snow White cel signed by Walt Disney to

Marguerite Clark, who of course played Snow White in the live-action film that inspired Disney. Clark was my grandfather's godmother. The Disney Family Museum has expressed interest in the cel

...

For more provenance, here is Clark, on the left, with my great-grandmother Tessie Mooney, standing third from left

...

Tessie married my great-grandfather J. Frank Hale, and it is their son James, my grandfather, who was Clark's godson."


(Note: Photo of Marguerite Clark is not included)

Cel and mat measure approximately 16" x 14" overall. Disney Studio cel authenticity label on reverse. In very fine condition with very minor age toning/staining. An amazingly rare autographed cel, from Walt to Snow White! Includes the Phil Sears Collectibles Lifetime Guarantee of Authenticity. Item # 6984
SORRY, SOLD

*Do not use the "Add To Cart" button if you wish to pay using our 10 month layaway payment plan. Instead CLICK HERE for the layaway order form. Most orders totaling $149 or more can be placed on layaway. Layaway does not require credit and is not the same as PayPal Credit.

Special U.S. Shipping charge on this item $19.95. Foreign shipping $89.95. Automatic checkout will not calculate foreign shipping accurately. After you place your order we will email foreign customers for additional shipping payment.