Click any image for a larger view


Walt Disney's Famous Characters- Autographed!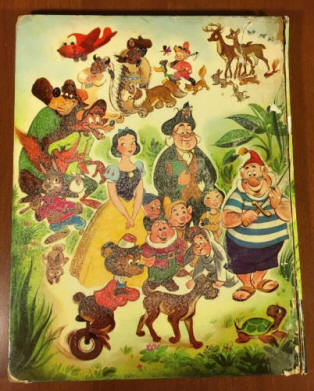 Some of Disney's most beloved characters and stories fill this book which has been personally autographed by Walt Disney: Pinocchio, Cinderella, Lady and the Tramp, Snow White and the Seven Dwarfs, Bambi, Dumbo, Peter Pan, and many more. This book was published in 1953, so it was autographed just about the time Walt was busy designing Disneyland. According to former owner Paul Thomas (a decades-long Disney autograph collector
and webmaster of waltdisneyautograpms.com):

"This is a book I was fortunate to pick up in November 2007. It is a great book and autograph for several reasons. The book itself is really big, almost 14" x 10" ...The autograph is bright and large. And best of all, I bought the book from Al Zimmerman himself. Mr.Zimmerman wrote the following in an email to me, "I grew up in North Hollywood, 15 minutes by bike from the Disney Studio. I mowed a neighbor's lawn that was an ink and paint girl at the studio. I had her take this book to the studio to have Walt Disney autograph it. This was pre-Disneyland so I frequently went over to the studio Saturday mornings for the tour. Once in 1954 I bumped literally into Walt Disney too dumbstruck to realize or say anything at the time."
Walt Disney has chosen a green crayon to compliment to color of the book's cover, and has signed:

"To Albert Zimmerman With Best Wishes Walt Disney"

Walt has written the personalization in his famous "Disney font" block writing. Walt's autograph is a gigantic 7 inches long!
Covers show wear with cosmetic paper loss (click on photos above). It's extremely rare to find Walt Disney's autograph on anything that includes so many of his most famous characters and stories. Included is a copy of the original recipient's email describing how he got this autographed book. Having the history of an autograph greatly enhances its value! Also includes the Phil Sears Lifetime Guarantee of Authenticity Certificate. Item # 7673, $3495
SORRY, SOLD
About $349/Month on layaway!*